Hải Phòng win after last minute strike
Former national striker Nguyễn Anh Đức found the back of the net for Bình Dương but ended up on the losing side after his mistake gifted…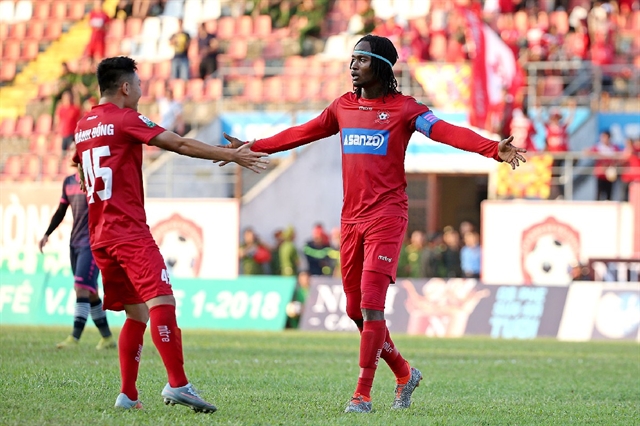 The 2016 Golden Ball winner needed just 18 minutes to open the scoring.
His finish to the far corner gave keeper Văn Toản no chance. But late in the second half his was guilty of giving the ball away to set up Hải Phòng's winner.
After the home side took the break, Hải Phòng levelled from the penalty spot through Andre Diego Fagan just before the interval.
Đoàn Tuấn Cảnh nodded put the home side in front when he headed home on 68 minutes.
Mpande Joseph Mbolimbo brought scores level in the final minute but Đức's error, giving the ball away to Fagan, allowed the Hải Phòng to score his second and his team's third.
Winning three point, Hải Phòng jump to fourth position with 13 points. Bình Dương are seventh with seven points.
Hà Nội FC will host No 1 HCM City at the Hàng Đẫy Stadium after they were fined for not controlling supporters following the release of flares in their last match.
But their punishment was reduced to VNĐ70 million (US$3,000).
HCM City top the V.League with 16 points after six games, five wins and one draw.
In today's match the visitors will play without injured midfielder Ngô Hoàng Thịnh and striker Matias Jadue.
The hosts are in second position with 14 points.
In six matches, Hà Nội have scored 15 times and their striker Hoàng Vũ Samson is on top of the scoring chart with five. HCM City on the other hand have conceded only three goals so far.
If Hà Nội and HCM City match end with a draw result, the third-placed Sông Lam Nghệ An with 13 points may jump to the top if they beat Nam Định at home.
Nghệ An are in high spirits five wins on the trot saw them rise to third place.
The former champions won all three games at home.
"It is only temporary position after six rounds. There are 20 rounds to go," said coach Nguyễn Đức Thắng.
"Nam Định added to their team three foreign and naturalised players. I think they would be a strong united team this year. Our coaching board watches them carefully to find their weak and strong points."
Nam Định however also find Vinh Stadium a good venue as they won two matches last year, one against the hosts at the round seven and one against Hồng Lĩnh Hà Tĩnh in the play-off match.
"We are also in good mood after beating former champions Becamex Bình Dương last week. We will be supported with many fans coming to Vinh. They will help us overcome challenges," said coach Nguyễn Văn Sỹ of Nam Định.
Meanwhile Hoàng Anh Gia Lai will play their first match under their new coach Lee Tae-hoon. They will receive Thanh Hóa who also have a new president Nguyễn Văn Đệ.
Elsewhere, Quảng Nam will entertain Viettel at their Tam Kỳ Stadium; Sanna Khánh Hòa will visit Quảng Ninh and SHB Đà Nẵng will travel to HCM City's Thống Nhất Stadium for hosts Sài Gòn.