VFF officially announced New Technical Director
On the afternoon of 9th Sep, VFF held the announcement ceremony for New Technical Director – Mr. Yusuke Adachi.

10/09/2020 10:36:24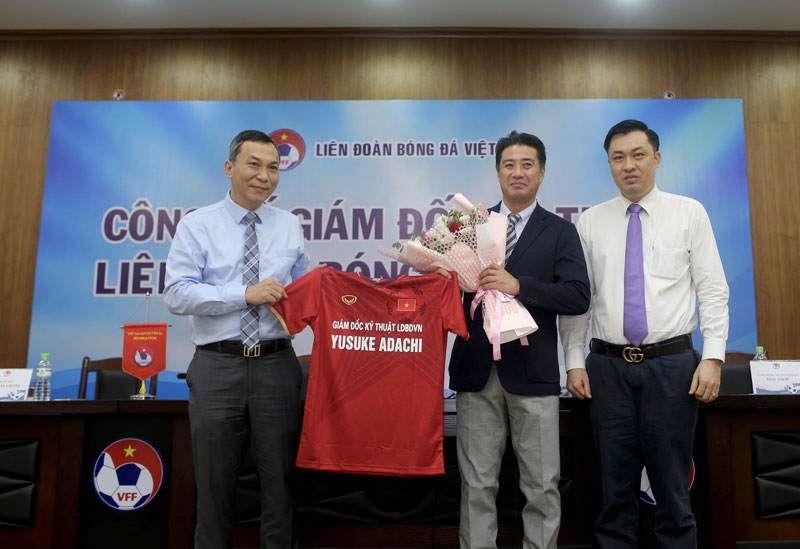 The delegation included: Mrs. Lê Thị Hoàng Yến – Deputy Director of Sports and Physical Training General Department; Mr. Trần Quốc Tuấn – VFF Permanent Vice President; Mr. Cao Văn Chóng – VFF Vice President; Mr. Trần Anh Tú – Member of VFF Executive Committee; Mr. Lê Hoài Anh – VFF General Secretary; Mr. Nguyễn Sỹ Hiển – President of National Coaching Committee; Mr. Park Hang-seo – Head coach of Men's National Team; Mr. Mai Đức Chung – Head coach of Women's National Team; members of VFF Executive Committee in Hanoi; VFF Secretary Department; leaders of Vietnam Youth Football Training; technical officers of VFF; VPF; Bongdaplus; foreign professionals and press.
Mr. Yusuke Adachi is Japanese (was born in 1961) who known as a AFC Elite Instructor. He had trained many coaches of Vietnam such as Phan Thanh Hùng, Hoàng Văn Phúc, Lê Huỳnh Đức, Nguyễn Văn Sĩ, Nguyễn Hữu Thắng, Ngô Quang Trường, Lư Đình Tuấn, Nguyễn Minh Phương, etc since 2017.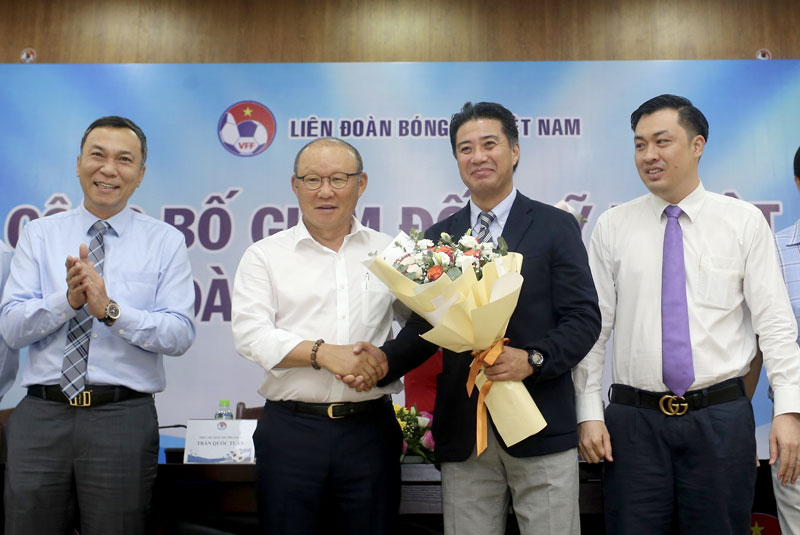 Not only showing ability in training for professional coaches, but Mr. Yusuke Adachi is also appreciated in youth training with many years in charge of school football at U16, U18, and U21 Shonan Bellmare; or working as Youth Football Director and Head coach of U18/U21 Cerero Osaka; and Sports Director of AC Nagano Parceiro Club. He used to work in the national coaching program of Japan, as well as joining in the development program of HongKong. He was also invited by FIFA to be a member of the Professional Analyze Team.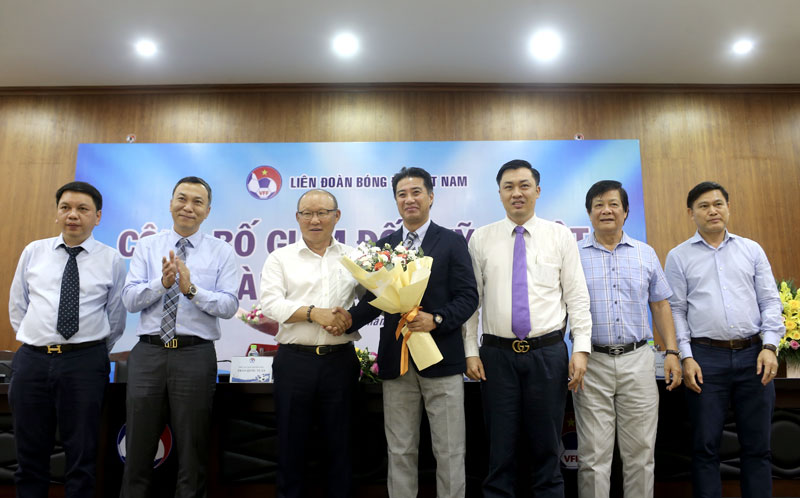 On behalf of VFF, General Secretary Lê Hoài Anh said that after research and evaluation time, VFF realizes that the co-operation with Mr. Adachi will help Vietnamese Football more actively in the organization of the training system. Besides that, our professional clubs are developing and need the coaching program, especially in the program for coaches at level B, A, and Pro to reach the development critical for professional football of AFC.
"VFF expects that with his experiences, Mr. Yusuke Adachi will have positive contributions for the youth football of Vietnam, especially in youth coaching system, technical directors for clubs and football centres; raise the qualification, and update modern methods to bring Vietnamese Football getting closer with world-class". VFF General Secretary Lê Hoài Anh said.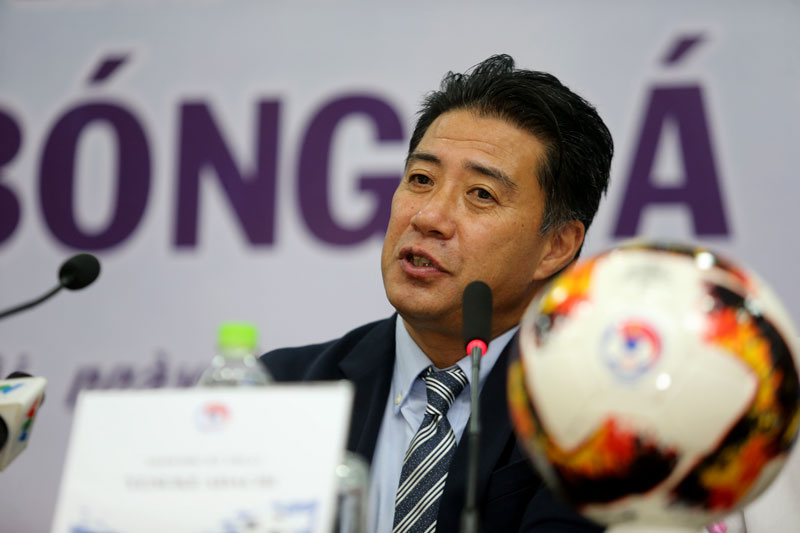 As a technical director of VFF, Mr. Yusuke Adachi argued that: "I am very happy to have the opportunity to work here in Vietnam. Being here today, I want to express my gratitude to VFF for trusting me and welcome me as the Technical Director of the Federation. I understand that the Technical Director is a highly important role, so I considered it carefully before accepting this duty. I commit to work with all my enthusiasm and responsibility to Vietnamese football, as well as applying my own experiences to my job here".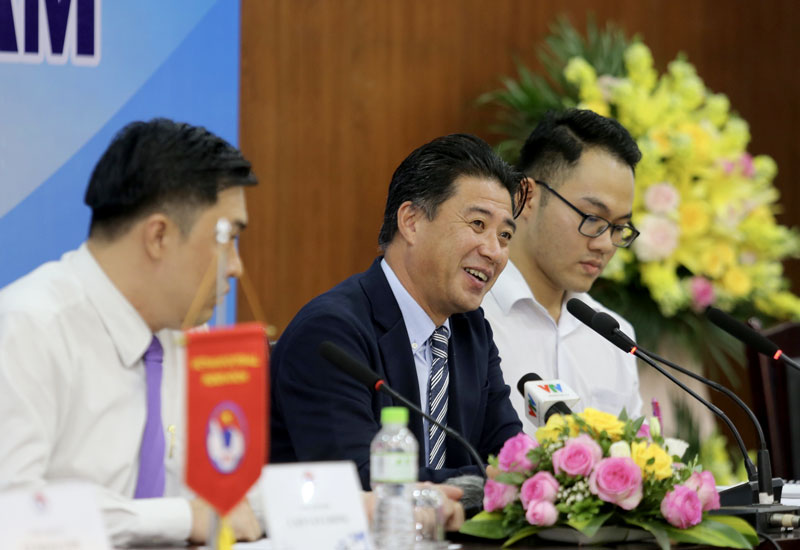 "My first goal is studying Vietnamese Football. We will meet the coaches and discuss the current situation. My advancement is working with 2 good head coaches Mr. Park Hang-seo (Men's National Team) and Mr. Philippe Troussier (U19 National Team). Mr. Park is doing a great job at the national team. He has more knowledge about Vietnamese Football compare to me. Mr. Troussier either. It is very good to co-operate with them. We will work together and find out the best routine for the development of Vietnamese Football".
As the evaluation of new technical director Yusuke Adachi, Vietnam's players have skills, however, it is still under the level of Europe's players. "Even though Vietnamese people are working hard and unity. It is a good foundation for development in the future. I think that Vietnamese Football has bigger potential than other countries. Look in Japan, after 30 years, from a team that couldn't win HongKong and Malaysia, today, Japan can defeat almost team in Asia. That is the result of trying hard. I don't know when Vietnam can do like that, but with the good character, we can do it". Mr. Yusuke Adachi said.