Việt Nam beat Myanmar to top group at regional event
Việt Nam beat Myanmar 4-0 yesterday at the ASEAN Football Federation Women's Championships, making it three wins out of three in the group stage.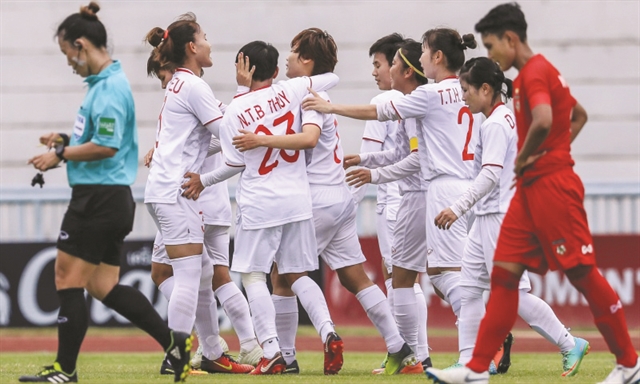 In previous games they team beat Cambodia 10-0 and Indonesia 7-0.
With nine points they top Group B and but will have to wait for results from other groups to see who they will face in the knock-out stages.
Both Việt Nam and Myanmar already qualified for the semi-finals and the result of the game was just to identify who topped the group.
With their goal difference of 17, Việt Nam just needed a draw to finish on top but they did it better at the Institute of Physical Education in Chonburi, Thailand.
The Southeast Games champions proved their power just two minutes into the game. Midfielder Nguyễn Thị Tuyết Dung sent a shot a whisker away from the net.
Ten minutes later Việt Nam converted their domination into their lead.
Dương Thị Vân stole a ball after a wrong pass from Myanmar. She gave it to Phạm Hải Yến who finished in the far corner.
After some wasted opportunities, Việt Nam doubled their lead two minutes before the break.
Yến assisted Thái Thị Thảo with a perfect pass to allow Thảo to tap in from close range.
Myanmar also recorded great result in their two previous matches, beating Cambodia 10-1 and Indonesia 7-0. But they were nowhere near the same level as Việt Nam last night.
Yến netted her second goal at the 61st minute. She took the ball after a misunderstanding between goalkeeper Thandar Oo and defender Wai Wai Aung and fired home.
Two minutes later midfielder Nguyễn Thị Bích Thùy was brought down in the box and Việt Nam was given a penalty.
Midfielder Nguyễn Thị Tuyết Dung made no mistake to make it 4-0.
"We made some changes to the line-up in this match but the squad players still did a good job. We won the game and finished on top of the group," said Việt Nam coach Mai Đức Chung at the post-match briefing.
"Now we will focus on the semi-finals. We must prepare well as we have been doing so we can beat any opponents."
Myanmar coach U Win Thu Moe said his players were nervous and could not play well under pressure although they tried really hard. He promised that they would be better in the semi-finals.
Group A's final activities will be held today with Malaysia playing East Timor and the Philippines facing the hosts.