U22 team train for SEA Games, AFC event
The Việt Nam U22 team began their training session at the Việt Nam Youth Football Training Centre in Hà Nội yesterday to prepare for the 2018 AFC…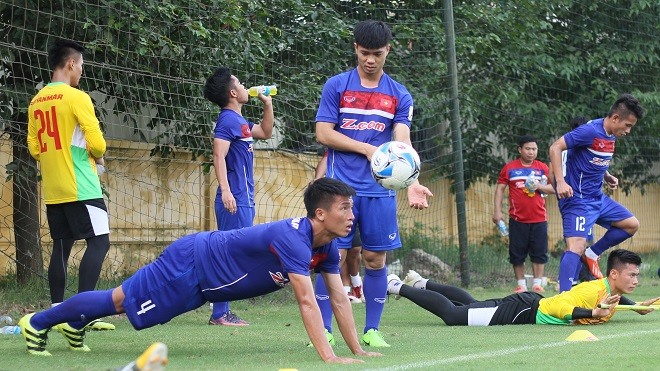 Head coach Nguyễn Hữu Thắng has called two new players to replace the injured players.
Midfielder Bùi Tiến Dụng was called to replace Trần Đình Khương of Sanna Khánh Hòa, while midfielder Trần Văn Kiên of Hà Nội FC replaced A Hoàng of Hoàng Anh Gia Lai.
Dụng is a key player for the national U19 team. He has recovered from the injury that he suffered during an intensive training session in Germany in April.
Midfielder Lương Xuân Trường, who is competing for Gangwon FC of South Korea, will join the team next week.
The team of four goal keepers, 10 defenders, 10 midfielders and four strikers will train in Hà Nội for one week before leaving for HCM City on July 13 to prepare for the AFC event.
They will meet Timor Leste in the Group I opener on July 19 at the Thống Nhất Stadium. Two days later they will play Macau and then South Korea on July 23.
The Vietnamese team will then take part in a friendly match against the K.League All Star team at the Mỹ Đình Stadium in Hà Nội on July 29.
They will later undergo a 10-day intensive training course in South Korea under the sponsorship of the South Korean Football Association.
The players will practise in Mokpo City in South Jeolla Province, where they will play three matches with local teams who are competing in the K.League.
The training course and the games are among the activities the South Korean side is holding to help Việt Nam win their first ever gold medal in the upcoming Southeast Asia Games in Malaysia in August.
In the previous games, Việt Nam finished third. This year, the target is one of the two berths in the final.
The draw will be held in early August with defending champions Thailand and hosts Malaysia both seeded No 1. They will be in two different groups. Việt Nam and Myanmar are second seeds.
Speaking with reporters, coach Thắng said: "My top priority is to focus on training activities and improve their physique."