Vietnam Golden Ball Award Night 2019: Waiting for excellent names will be honored
The event for excellent individuals of Vietnamese Football 2019 with the title of Vietnam Golden Ball will be held on tonight 26th May at Rex Hotel (Ho Chi Minh City) by SGGP News.

26/05/2020 16:04:07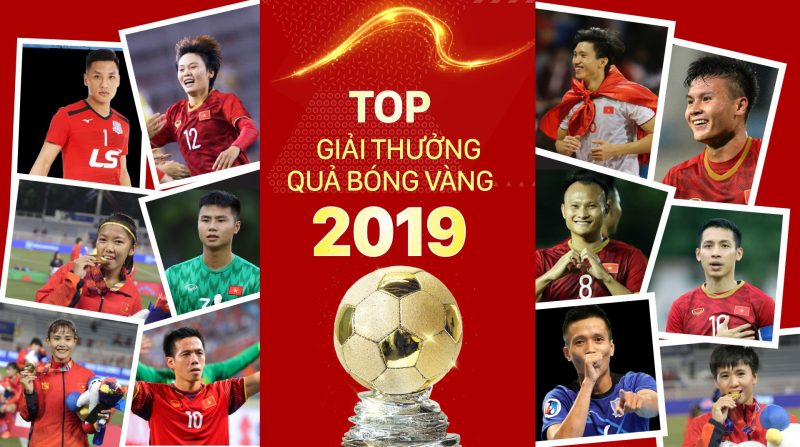 As the original plan, the award ceremony would hold on the earlier day of 2020 before the LS V.League 1-2020 kick-offs. However, due to the effect of Covid-19, all sports and football events had to suspend. Until 23rd May, the football returned with the starting of the Bamboo Airway National Cup 2020. It means that Vietnam successes in the prevention of Covid-19 as well as showed the effort of VFF, VPF, and clubs. At this moment, the Golden Ball Award 2019 will be a highlight to attract the attention of many spectators.
Before Golden Ball Award Night 2019, 2 players leading the list of individual titles, Pham Thanh Luong (Hanoi) and Doan Thi Kim Chi (Ho Chi Minh City) have 4 times win the title.
The Vietnam Golden Ball Award Night 2019 will direct broadcast on VTV6 and VTV Sports at 8 p.m tonight 26th May.
List of Vietnam Golden Ball 2019 Nominations
Men's Golden Ball
– Đỗ Hùng Dũng (Hanoi FC)
– Nguyễn Quang Hải (Hanoi FC)
– Đoàn Văn Hậu (Heerenveen SC)
– Nguyễn Trọng Hoàng (Viettel FC)
– Nguyễn Văn Quyết (Hanoi FC)
Women's Golden Ball
– Nguyễn Thị Tuyết Dung (Phong Phú Hà Nam FC)
– Chương Thị Kiều (Ho Chi Minh City FC)
– Huỳnh Như (Ho Chi Minh City FC)
– Trần Thị Kim Thanh (Ho Chi Minh City FC)
– Phạm Hải Yến (Hanoi FC)
Futsal's Golden Ball
– Phạm Đức Hòa (Thái Sơn Nam FC)
– Trần Thái Huy (Thái Sơn Nam FC)
– Nguyễn Minh Trí (Thái Sơn Nam FC)
– Trần Văn Vũ (Thái Sơn Nam FC)
– Hồ Văn Ý (Thái Sơn Nam FC)
Young player of the Year (Men)
– Nguyễn Hoàng Đức (Viettel FC)
– Đoàn Văn Hậu (Heerenveen SC)
– Nguyễn Văn Toản (Hải Phòng FC)
– Trần Danh Trung (Viettel FC)
Young player of the Year (Women)
– Nguyễn Thị Tuyết Ngân (CLB TPHCM)
– Cù Thị Huỳnh Như (CLB TPHCM)
– Ngân Thị Vạn Sự (Hà Nội FC)
International player of the year
– Bruno Cantanhede (Viettel FC)
– Memovic Damir (SLNA FC)
– Pape Omar Faye (Hanoi FC)