Việt Nam enter quarter-finals of AFC U-20 futsal champs
Việt Nam came from behind on Saturday to defeat Tajikistan 2-1 in the group stage and book their place in the quarter-finals of the AFC U-20 Futsal…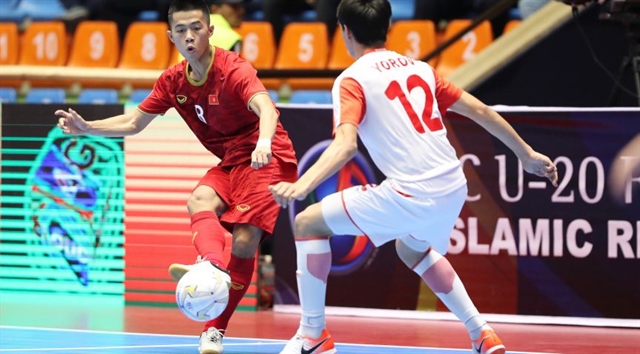 Việt Nam controlled the tempo of the game from the opening whistle but it was Tajikistan that scored the opening goal.
Following a quick attack down the right side, Idris Yorov broke the deadlock from a tight angle.
Just two minutes later, Triệu Xuân Linh hit a fierce shot on a first-time volley off a cross long pass from Lâm Trung Thuận to level the score.
Việt Nam then took the lead in the 16th minute through Hà Đức Ngọc's strike from near the half-line mark.
After the break, Tajikistan fought hard to find an equaliser but Việt Nam did well to deal with the pressure and earn their place in the next round.
Tajikistan earlier lost to Japan 1-3.
"A wonderful game for Việt Nam," Việt Nam's head coach Trương Quốc Tuấn told the-afc.com. "As I said, more than half of the team are only 17 or 18 years old, and have never played in a Continental tournament. We came here with the aim to gain experience for our players, so every single game here is a very good lesson."
Tajikistan's head coach Eradzh Nasikhov said: "This was a good game. Our players did well, but unfortunately we didn't fully take advantages of our opportunities, and that's why we lost. It was our decision to not opt for a power play, because we wanted to score without it. There are many factors to our loss today, one of which was because we just played against one of the strongest teams in Asia, Japan. So maybe our players were tired. In a game like futsal, if you don't utilise your opportunities, and don't score, you lose."