Easy win for U15 Việt Nam against Australia
Việt Nam beat Australia 2-0 in the semi-final match of the ASEAN Football Federation (AFF) U15 Championship at the Chonburi Stadium in Thailand…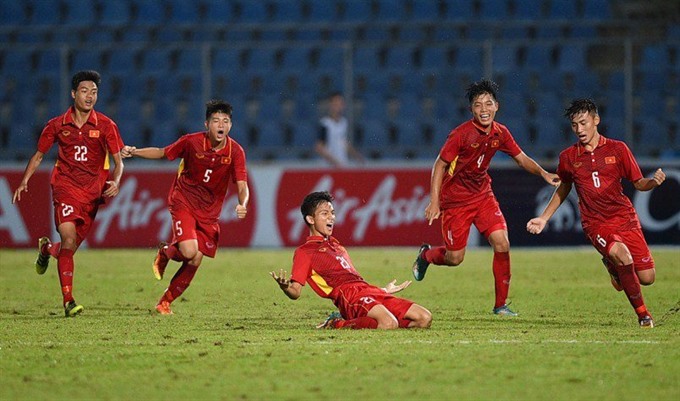 Việt Nam celebrate winning 2-0 against Australia in the semi-final match of the ASEAN Football Federation (AFF) U15 Championship at the Chonburi Stadium in Thailand yesterday. — Photo twing.com
The team will meet Thailand, who defeated Malaysia 1-0 in the other semi-final, in the final tomorrow.
Việt Nam played confidently as soon as the referee blew the whistle, although the ground was wet and slippery.
The 4-0 win of U23 Việt Nam team against Timor Leste in the qualifying round of the AFC U23 Championship in HCM City on Wednesday was a driving force for the U15 Việt Nam team in this game.
It was Australia who tasted the first real chance to score, but a shot from Trent Ostler went past the yawning goalmouth, as Việt Nam then replied with a freekick that went over the wall, and saw keeper Oliver Kalac fully stretched to keep it out.
The first goal finally came in the 29th minute when Nguyễn Quốc Hoàng ran past his marker down the left, before unleashing a shot to the far post.
Just three minutes later, Kalac's goal was breached again when Võ Nguyên Hoàng outpaced the Australian defence for a crisp grounder.
With the score at 2-0 to Việt Nam's advantage and the night sky opening up for a prolonged drizzle, the game went up a notch, as Australia pushed harder for their first goal in the competition.
Close to the hour mark, Luka Duzel's grounder went through a sea of legs before bouncing off the upright, while some time later, his half volley was met with an excellent block from Vietnamese keeper Nguyễn Duy Dũng.
In the last minute of play, substitute Jaiden Kucharski could not make a fine finish though Dũng was out of position.
In the match for the third place, Malaysia will meet Australia at the Chonburi Stadium tomorrow.