VN to perform well at Asian U19 qualifier
Coach Hoàng Anh Tuấn of Việt Nam has asked his players to have convincing victories at the upcoming qualifier of the 2018 Asian Football…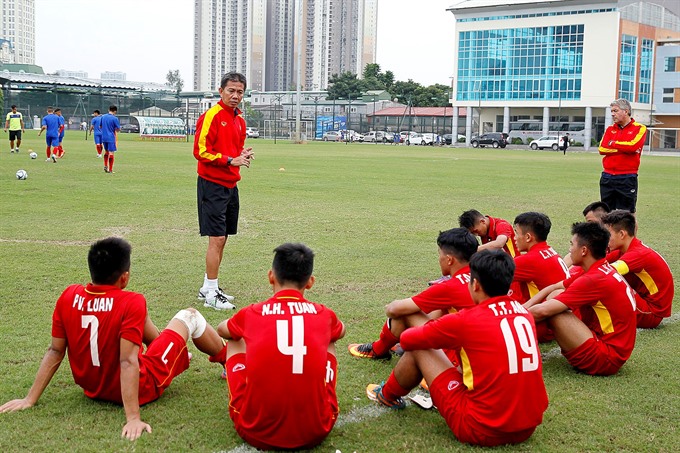 Coach Hoàng Anh Tuấn talks with his players after a training. The Vietnamese team will take part in the 2018 Asian Football Confederation U19 Championship qualifier on November 4-8.
Tuấn and his players left yesterday for Chinese Taipei for the tournament, which is from November 4 to 8.
Speaking with players before their flight, Tuấn said Việt Nam has to display technique and spirit at a higher level compared with their rivals in the group so that they get the opportunities to compete against the continent's powerhouses.
Việt Nam are in Group H with Laos, Macao and the hosts.
"They are getting better, but it is not enough to meet my demand. I always ask them to perform better everyday, as you know we are at a lower level in Asia, so we need to work harder and harder," Tuấn said.
"We have to pass the qualifier first before thinking ahead. I want my players to focus 100 per cent on every match. Do not think they are a weak team and look down on them," Tuấn, who trained his team for one month in Hà Nội, said.
"I think if we advance to the finals with poor performance in the qualifier, we will not go far. The World Cup is really difficult," he said.
Tuấn has finalised 22 players to accompany him to Taipei but admitted they were not as strong as their seniors, who won the World Cup U20 ticket last year. He said the selected players were not the best because they lacked experience, while some players he wanted could not make it due to injuries. Meanwhile, the AFC's best young player of the year, defender Đoàn Văn Hậu, was called up for the national team.
He said most players had only played at the ASEAN level. Striker Nguyễn Khắc Khiêm was the only one who had a chance of participating in a continental U16 event.
"Other difficulties will be the time of the match which is 1pm and the artificial grass that we are not familiar with. These will be challenges for all teams, but we must have plan for it," he said.
As part of his plan, Tuấn invited fitness coach Dominic Palmer to work with the team since last week.
The German, who used to work with different clubs in Germany and Spain, including European giant Real Madrid, focuses on improving players' physique.
According to the coaching board, the 36-year-old introduced interesting exercises for players, which got them enthused and motivated to do their best during practice.
According to the schedule, Việt Nam will first meet Macao on Saturday. Their next rival is Chinese Taipei on Monday and then Laos two days later at the Hsinchu County Second Stadium.
The 10 group winners and five best second-placed teams will advance to the finals alongside hosts Indonesia.
China are the first team through to the finals after winning Group G in Phnom Penh last week.