FUTSAL CLUB: Sanna-Melaka make cut from Group B
Sanna Khanh Hoa of Vietnam and Melaka United of Malaysia made the cut for the semi-finals of the AFF Futsal Club Invitational Championship when they…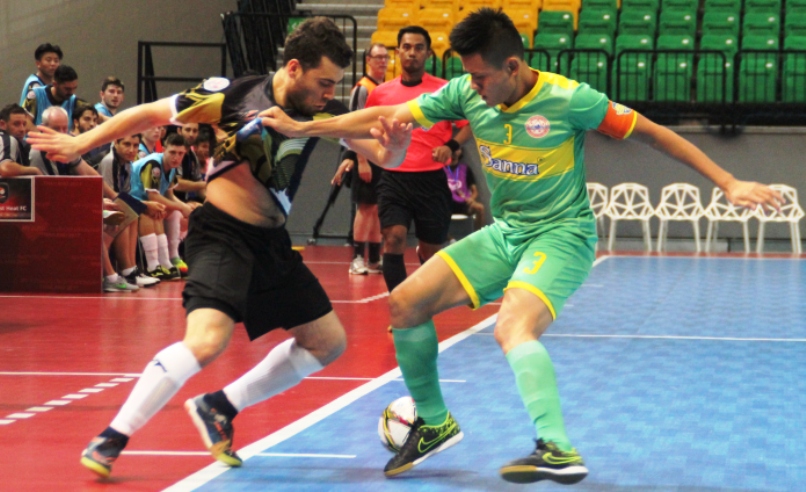 Sanna Khanh Hoa (in all green) vs East Coast Heat (in all black)
Sanna Khanh Hoa beat East Coast Heat of Australia 6-2 while Melaka United overcame their early stutter to beat Vientiane Capital 8-2.
The decisive match between Sanna and East Coast were fairly balanced in the first half with neither giving much space and where at the end of a tight first half, it was the Australians who were in front off Laureano Castro's tenth minute effort.
But the red card on East Coast's Jamie Dib in the 21st minute for a foul on Sanna keeper Nguyen Dinh Hoa changed the pace of the game as the latter took advantage to blast in the equaliser just a minute later through Phan Khac Chi.
East Coast Heat fell apart soon after as indiscipline crept in for Sanna to score through Nghia Eban (32nd), Khac Chi (34th) and Khong Dinh Hung (36th).
Another red card on East Coast's Christopher Zeballos for handling the ball inside the D in the 38th minute allowed Sanna to score two more goals off May Thanh Dat (38th) and Khac Chi (39th) for the win.
East Coast's final goal of the afternoon came off Lachlan Wright in the 39th minute.
In the meantime, Melaka United struggled somewhat at the start before they were able to sidestep minnows Vientiane Capital 8-2.
The goals for Melaka United were scored by Muhammad Awaluddin Hassan (1st and 35th), Muhammad Shamsul Amar Zamri (32nd and 35th), Mohd Firdaus Ambiah (16th), Mohd Khairul Effendy Bahrin (20th), Yazid Kamaruzaman (38th) and Jamaluddin Alias (38th).
Vientiane's two goals were scored by Vanhnasone Lamxay (6th) and Soulichanh Phasawaend (34th).