Thái Sơn Nam in Group A of futsal champs
Việt Nam's Thái Sơn Nam are in Group A of the AFC Futsal Club Championship Việt Nam 2017, following the tournament's draw in HCM City…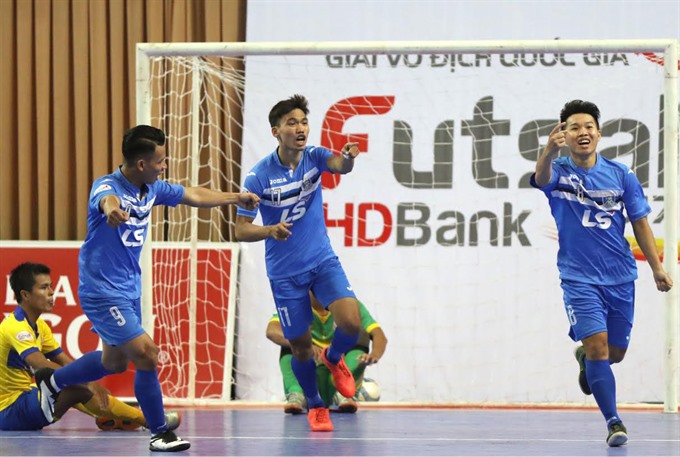 Thái Sơn Nam players compete in the National Futsal Championship last month. The Việt Nam champions are in Group A at the AFC Futsal Club Championship in HCM City in July. — Photo bongda4v.com
Thái Sơn Nam, who finished third in 2015, will face Al Dhafra FC of UAE, Vic Vipers FC of Australia and FC Erem of Kyrgyzstan in the group.
The hosts will open against Erem FC on July 20.
Meanwhile in Group C, Shriker Osaka, who as Japan's domestic champions have ensured Nagoya Oceans will not be retaining the title they won last year, will look to secure their country's fourth crown but face stiff opposition from Sanaye Giti Pasand of Iran and Shenzhen Nanling Tielang of China
Elsewhere, 2016 runners-up Naft Al-Wasat from Iraq have been drawn alongside Al Rayyan SC of Qatar, Vamos FC of Indonesia and Disi Invest of Tajikistan in Group B, while Thailand's Chonburi Bluewave, who were crowned champions four years ago, will look to improve on last year's third-place finish with strong Group D displays against FC Almalyk of Uzbekistan and Bank of Beirut FC of Lebanon
The winners and runners-up from each group – eight teams in total – will qualify for the quarter-finals. The four winners of the quarter-finals will qualify for the semi-finals, with the winners advancing to the final. The losing teams will face each other in the third and fourth place match.
"All four teams in this group are at the same level so it's wide open. However Thái Sơn Nam are playing on home turf, which is our biggest advantage, so we hope to advance to the next round. We aim to win bronze like we did two years ago," said Thái Sơn Nam captain Trần Văn Vũ.
Thái Sơn Nam beat Nawat Al-Wasta from Iraq 7-3 in the third-place play-off match in Iran in their competition debut.
In 2016, Sanna Khánh Hòa represented Việt Nam but were knocked out at the group stage.
It is the eighth edition of the tournament and the first in Việt Nam. All matches will take place at Phú Thọ Gymnasium in HCM City from July 20-30.
The draw of the AFC Futsal Club Championship Việt Nam 2017. — Photo vff.org.vn