2nd of Women's National League – Cup Thái Sơn Bắc 2020: TPHCM won the championship early
HCM City I had a victory 6-1 over Thái Nguyên T&T and won the championship early 1 round, while HCM City II had a draw 1-1 over PP Hà Nam.

11/12/2020 09:27:15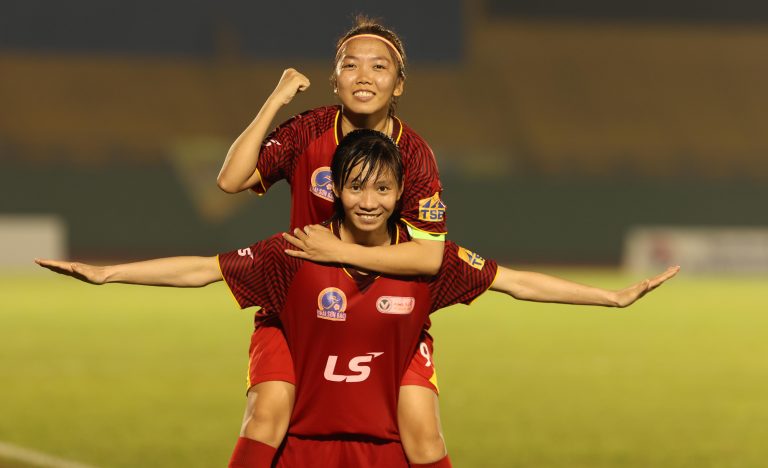 Need only 1 point over Thái Nguyên T&T to won the championship, however, in a match with a weak opponent, they did an excellent game.
On the other hand, PP Hà Nam suddenly had a draw 1-1 with HCM City II.
RESULT OF THE MATCH-DAY DEC 10
Location: Bình Dương stadium
(16h00) HCM City II vs Phong Phú Hà Nam: 1-1

HCM City II: Nguyễn Thị Ngọc Duyên (76) 83′

 Phong Phú Hà Nam: Đỗ Thị Nguyên (2) 6′

HCM City II: Nguyễn Thị Huỳnh Anh (51) 31′, Châu Ngọc Bích (31) 90′
(18h30) Thái Nguyên T&T vs TP Hồ Chí Minh I: 1-6

 Thái Nguyên T&T: Trần Thị Thúy Nga (28,pen) 32′

 TP Hồ Chí Minh I: Huỳnh Như (9) 10′, Lê Hoài Lương (5) 41′, Phan Thị Trang (10) 43'&85′, Trần Thị Thùy Trang (14) 84′, Nguyễn Thị Mỹ Anh (25) 90'+2

 TP Hồ chí Minh I: Nguyễn Thị Kim Loan (8) 31′
 FIXTURE OF ROUND 14
DEC 12
Location: Bình Dương stadium
(16h00) Hanoi II Watabe vs Sơn La
(18h20) Than KSVN vs Hanoi I Watabe (VTV6, VFF Channel (Youtube)
DEC 13
Location: Bình Dương stadium
(16h00) Thái Nguyên T&T vs HCM City II
(18h30) HCM City I vs Phong Phú Hà Nam (VTV6, VFF Channel (Youtube)