Mr. Duong Nghiep Khoi is the General Secretary of VFF term 9th

07/11/2022 10:32:04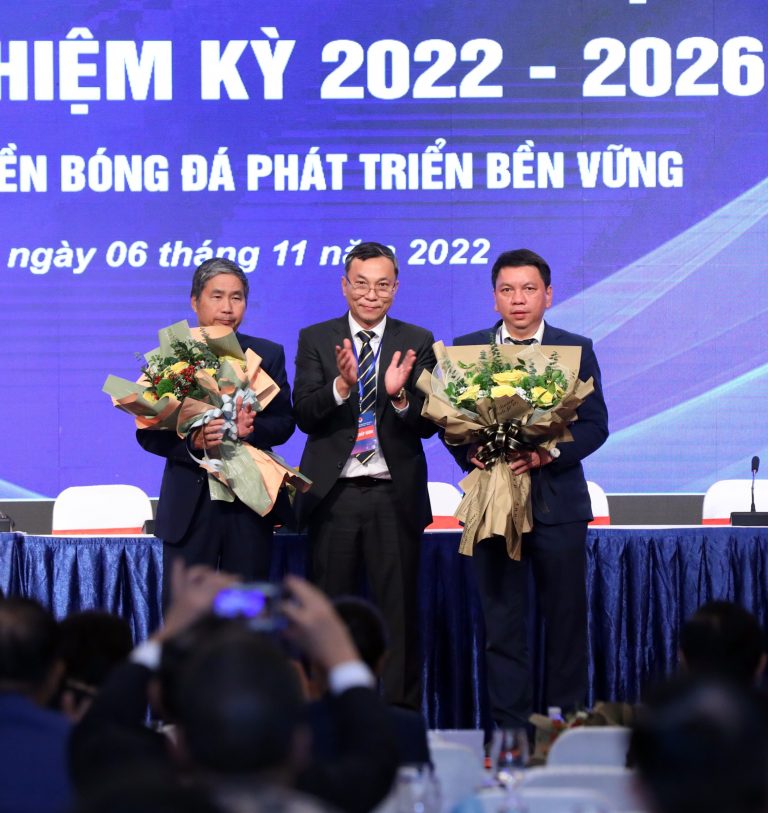 At the first meeting of the term 2022-2026, according to the proposal of VFF President Tran Quoc Tuan, the members of the Executive Committee unanimously approved the appointment of Mr. Duong Nghiep Khoi as General Secretary of the 9th VFF.
Mr. Le Hoai Anh, who holds the position of General Secretary of the 7th and 8th term, was assigned the role of Assistant for the Vietnam Football Federation Tran Quoc Tuan.
On behalf of the Bureau of the Executive Committee, President Tran Quoc Tuan presented flowers to congratulate Mr. Duong Nghiep Khoi and Mr. Le Hoai Anh.
The new General Secretary Duong Nghiep Khoi is known as one of the most experienced and veteran football experts of VFF. He has spent 13 consecutive years working at VFF and has made important contributions to professional work with 5 times being appointed as Chairman of the V-League's organisation committee in the seasons 2005, 2006, 2007, 2008, and 2011 as well as 2 times as Deputy Chairman of V-League Organisation Committee in the 2009 and 2010 seasons. Mr. Duong Nghiep Khoi is also the Head of the U19 Vietnam delegation that played excellently at the 2016 AFC U19 Championship and won the historic ticket to participate the FIFA U20 World Cup 2017. After that, Mr. Duong Nghiep Khoi continued to be trusted as the Head of the U20 Vietnam delegation participating in the 2017 FIFA U20 World Cup.
Sharing after being assigned the position of General Secretary of the 9th VFF, Mr. Duong Nghiep Khoi said: "In the past time, I have regularly updated the football situation in Vietnam. I do not forget my contribution to Vietnamese football. Returning to work at VFF today, I feel like I'm back at home. I am deeply moved and delighted to be appointed to the new role.
Previously, I only worked to the position of Deputy General Secretary. This is the first time I have been appointed as the General Secretary, it is a heavy task. I need to try my best to devote and contribute to Vietnamese football."