Hà Nội beat Đà Nẵng 3-2 in V.League
2019-05-20 10:06:07
Hà Nội FC edged Đà Nẵng by three goals to two in the V.League 1 match that marked a rare start for their national U23 goalkeeper Bùi Tiến Dũng after four months on the bench.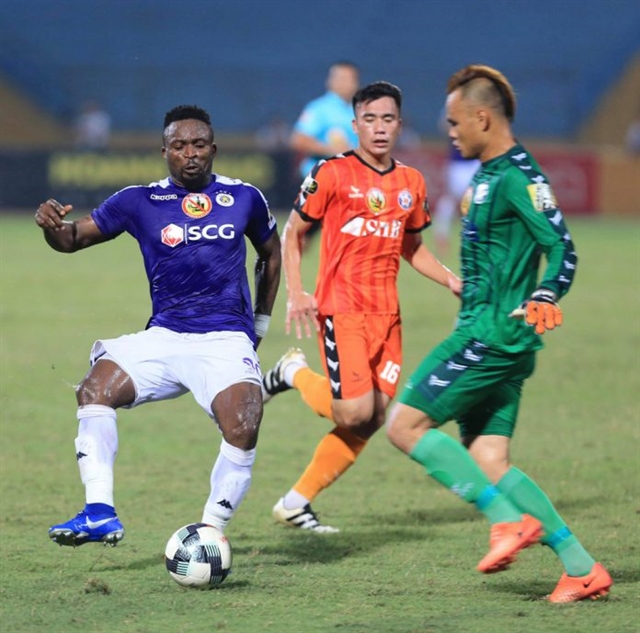 Dũng moved to Hà Nội early this year but an injury kept him out of the first team at the beginning of the season.
Coach Chu Đình Nghiêm finally gave him his first start on Sunday in this important victory.
The home side were without key defenders Trần Đình Trọng and Đỗ Duy Mạnh because of suspension and injury.
Nghiêm said he gave Dũng an opportunity to win over national team coach Park Hang-seo's as the South Korean would reveal his national team list in the coming days for the King's Cup in Thailand.
However, Dũng will have been disappoint his error led to a goal from Thanh Hải to equal the score at one each after Oseni Ganiyu Bolaji had put the home side in front earlier in the match.
Bolaji completed his double on 68 minutes and just two minutes later, Đỗ Hùng Dũng netted the third goal for the reigning champions.
Đà Nẵng's Schmitt Norbert pulled one back for the visitors with nine minutes to go but it wasn't enough to stop Hà Nội claiming all three points and keeping hold of second place, two points behind leaders HCM City.
Đà Nẵng dropped to ninth place with 12 points.
Earlier Sunday, Nguyễn Văn Toàn scored to help Hoàng Anh Gia Lai draw with Becamex Bình Dương 1-1 in the V.League in Pleiku City.
Despite playing at home, Hoàng Anh Gia Lai set the pace of the match between two former champions but they failed to dominate their rivals.
Bình Dương have only just returned home after their AFC Cup game against Ceres Negros of the Philippines. The tiring team were pegged back in the opening exchanges but still managed to find the net after 16 minutes.
Hồ Tấn Tài ran the ball into the opposition half and finished from distance evading many Hoàng Anh Gia Lai's players on the way and goalkeeper Wieger Sietsma.
The goal made silenced the home fans as this was the first they have conceded in three games.
Kim Tae Hoon asked his players to push on and on 10 minutes later Nguyễn Phong Hồng Duy played a perfect pass to Toàn who jumped high and nod to the far corner of the net.
Hoàng Anh Gia Lai's unbeaten streak is now four games and they stay sixth in the table.
It was also the third match that Bình Dương did not lose. They are eigth with 12 points.
In Tam Kỳ, Patiyo Tambwe scored in the last minute to help Nam Định go home with one point after a 1-1 draw against former V.League winners Quảng Nam.
Earlier, Junior Claudecir opened the scoring 10 minutes after the interval.
The result did nothing to help either side who stay in the same places in the league after the final whistle.
One point for each team means that Quảng Nam remain at second from bottom and Nam Định just one place ahead.
Sanna Khánh Hoà remain at the foot of the table.
Source : VNS