Nam Định deal shock blow to defending champions Hà Nội
2019-05-27 09:40:12
Nam Định fought to a shock 2-0 win on Friday over defending champions Hà Nội in the 11th week of the V.League 1 season.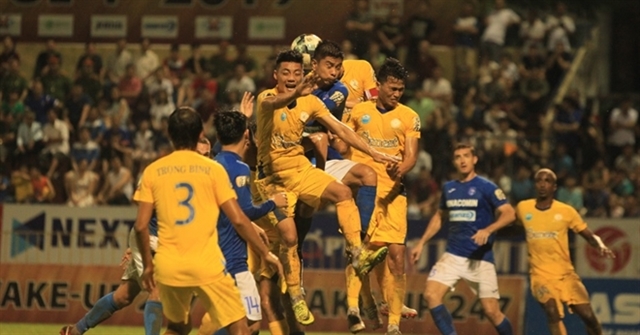 The game was held at Thiên Trường Stadium in the northern province of Nam Định.
With Nam Định near the bottom of the table and Hà Nội sitting in second coming into the match, few thought the hosts had a chance.
The visiting side dominated the game from the opening whistle, but was unable to get past the defence to create quality chances. Although the away side had more than 60 per cent of possession in the early minutes, they failed to put themselves in any notably dangerous situations.
In the 37th minute, from a rare attack, the hosts suddenly found the opener. Mạnh Hùng used his chest to control a cross to the feet of Diogo Pereira at the top of the box, and the Brazilian striker sent his thundering strike past Hà Nội goalkeeper Bùi Tiến Dũng.
Hà Nội seemed out of sorts after the early setback. Goalkeeper Dũng was caught in an awkward position after rushing out and failing to claim a cross, but Đình Mạnh sent his shot wide of the open goal.
After the break, Hà Nội maintained control of most of the position but could not find a way past Nam Định's disciplined defenders.
The hosts took a cautious approach, but still managed to extend the lead after an audacious chip by Vũ Thế Vương dropped under the crossbar in the 70th minute.
Hà Nội created chance after chance in the closing minutes but failed to break through, dropping the result 2-0.
After the match, Hà Nội's coach Chu Đình Nghiêm admitted his team had made defensive errors.
"It is an interesting game," Nghiêm said. "Nam Định had chances and they took advantages of them. We also played well but sometimes we didn't focus. The first goal was Dũng's fault and the second was the defenders' mistake."
Coach Nguyễn Văn Dũng of Nam Định was very happy with his team's win.
"We were playing on our home turf with wonderful fans," he said. "We knew that Hà Nội are very strong so we played with perfect teamwork to limit their strength. I think the most important thing was that my footballers were very dedicated today."
Elsewhere on Friday, Thanh Hoá defeated Sài Gòn 2-1, Quảng Ninh Coal beat Becamex Bình Dương 2-0 and Viettel beat Hải Phòng 2-0.
Today, Đà Nẵng will face Hoàng Anh Gia Lai, Sanna Khánh Hoà will play Quảng Nam and first-placed HCM City will take on Sông Lam Nghệ An.
Source : VNS