Park Hang-seo meets Vietnamese supporters in Seoul
2019-02-18 10:38:43
National football team head coach Park Hang-seo and four injured players met with Vietnamese people at an event in Seoul organised by the Việt Nam Embassy in South Korea on Tuesday.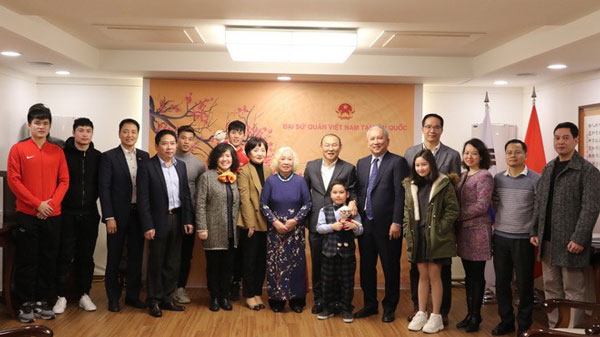 Park is enjoying a vacation after a successful Asian Cup run to the quarter-finals while the players, Vũ Văn Thanh, Trần Đình Trọng, Lục Xuân Hưng and Đặng Văn Tới, have each had surgery and are recovering.
Ambassador Nguyễn Vũ Tú on behalf of the supporters expressed his sincere thanks and admiration to the Korean trainer. Tú hoped that Park would continue working with Việt Nam's teams and earn more success at the upcoming SEA Games, Asian U23 Championship qualifiers and World Cup qualifiers.
Park shared his feelings about Vietnamese football, footballers and supporters. He also talked with the four players about their recovery and daily life far from home.
Thanh will remain in Seoul for three months before returning to competition. Trọng is expected to be back home by the end of this month while Hưng and Tới must stay up to five months as their knee ligament injuries need more time to heal.
Park will fly to Cambodia later this week to watch the ASEAN U22 Championship to scout players for the U23 squad.
As head coach of the Việt Nam national team, Park has been invited as an inspiring ambassador to speak at the ninth Youth Mentoring Festival on February 27 at Jangchung Arena. The forum, which aims to inspire the younger generation, is expected to lure about 4,000 people.
Source : VNS