Thái Sơn Nam enter semi-finals of AFC futsal event
2017-07-28 15:18:08
Thái Sơn Nam stormed into the semi-finals of the Asian Football Confederation Futsal Club Championship after defeating last year's finalists Nafit Al-Wasat 4-0 in HCM City yesterday.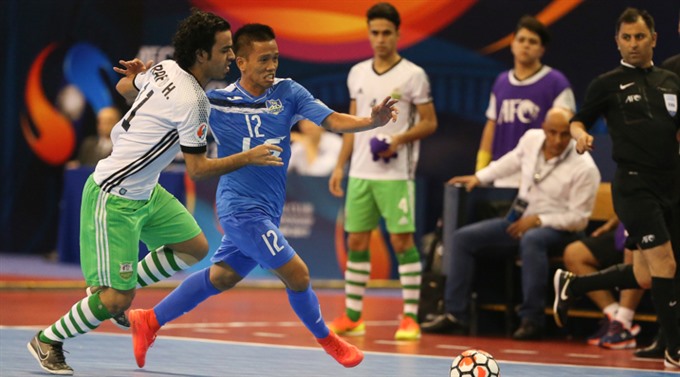 Phạm Đức Hòa of Thái Sơn Nam (right) tries to run away from Rafid Hameed Eesa of Nafit Al-Wasat during their quarter-finals of the Asian Football Confederation Futsal Club Championship yesterday in HCM City.
Nguyễn Minh Trí became the hero, as he netted a double in a match that saw the Vietnamese champions supported by more than 4,000 people at the Phú Thọ Stadium.
Two other goals belonged to Trần Văn Vũ and Phạm Đức Hòa. All the goals were made in the second half.
Having squeezed through to the last eight on the final day of the group matches, Thái Sơn Nam established their domination early in the match against Iraq's Nafit Al-Wasat.
However, the hosts failed to break Nafit Al-Wasat's net in the first period.
On the other side, Nafit also managed to make a few counter-attacks.
Fahad Methaq found Waleed Khalid near the net but he missed a goal by a whisker.
Farhad Tavakoli came close to another one moments later, Methaq again providing the tee-off, but Thái Sơn Nam's goalie Nguyễn Văn Huy was more than equal to it, diving to his right to keep his side's chances alive in the match.
Huy did a good job, as he saved the net once again from Tavakoli's low driven attempt.
Rafid Hameed's deflected volley was also denied, as the right goal post was on Huy's side.
The second half was the same. The home side continued to pile the pressure with attempts from Trần Thái Huy and Lukaian Baptista, but some fine reflexes by goalkeeper Ahmed Duraid rescued Nafit.
The home crowd became excited when Trí struck home from the left flank.
Two minutes later, the local people erupted in joy when Baptista's no-look pass to Vũ, which deceived the Iraqi defence, found an unmarked Tri for a simple tap-in.
In the final minutes of the match, Nafit deployed their power play for the first time in the competition. However, they failed to grab a single goal but let Thái Sơn Nam net two within two minutes.
Vũ and Hòa added a goal each, both sending their long-distance shots into an empty net.
"I said before the match, it will come down to high-pressing, perfect defence and long spells of possession. I am quite surprised that they were very conservative with their approach," coach Miguel Rodrigo of Thái Sơn Nam was quoted as saying on the-afc.com.
"At first, I thought it was because of respect, but later I realised, it was because they were afraid of us. That was the first sign for me that the result would fall in our favour tonight. We were the superior team from the start until the end, no question about it."
In the last-four round today, Thái Sơn Nam will meet Bluewave Chonburi of Thailand, who are the title favourites this year.
Bluewave Chonburi sailed into the semi-finals after toppling Shriker Osaka of Japan 4-2 in an early quarter-final match yesterday.
Source : http://vietnamnews.vn