Thái Sơn Nam thrash Vic Vipers
2017-07-25 14:21:24
Thái Sơn Nam defeated Australia's Vic Vipers 9-2 in their second Group A match on Saturday at the AFC Futsal Club Championship in HCM City to keep alive their quarter-final hopes.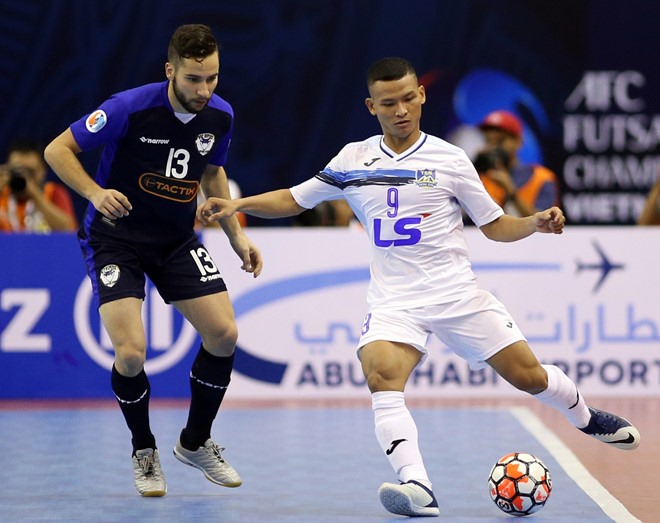 Action during the Thái Sơn Nam vs Vic Vipers match in the Vietnamese team's second Group A match of the AFC Futsal Club Championship at HCM City on Saturday. — Photo zing.vn
Taking full advantage of nearly 3,000 fans on their home turf, the national champions stormed to a 5-0 lead in the first half with a brace from Lê Quốc Nam and a goal each from Hossein Tayebibidgoli, Phùng Trọng Luân and Trần Thái Huy.
The visitors' resistance was weak and they did not create scoring chances of their own.
In the second half, Luân scored his second goal of the night after poor defending by Adam Cooper.
Just a minute later, Phạm Đức Hòa got his hat-trick, latching on to a corner kick from Trần Văn Vũ. Then it was Vũ's turn to score, a left-legged drive beating Christos Apostolakis.
Jason Barrientos got one in for the visitors, pouncing on a rebound, but the home side extended their lead again with Tayebibidgoli scoring with a long-range shot to get his brace.
Jordan Constantinidis helped Vic Vipers add to their score in the one-sided match.
"Today was a complete opposite from the first day. I could see the motivation was there, especially in defence and the way we pressed high, it made all the difference. You could tell the Australians were a bit tired but take nothing away from my players. This is the type of high-tempo modern futsal that I have been trying to get us to play," Thái Sơn Nam's head coach Miguel Rodrigo said on the website www.the-afc.com.
"The fans were amazing, they were our sixth man, and I hope they will continue to show us such fantastic support in our next match," Rodrigo added.
Meanwhile, coach Miltiadis Sakkos of Vic Vipers said: "Obviously, I am disappointed with the result. We started off badly and couldn't recover from then on. It's now time to recover, regroup and most importantly, play with pride in the next game. It is a matter of going back to the basics, back to the fundamentals, get the simple things right."
In another Group A match, Al Dhafra of United Arab Emirates beat FC Erem of Kyrgyzstan 4-0.
With one loss and one win in two matches, the Vietnamese team rank third in Group A with three points. Al Dhafra are on top with six, Erem second with three, and Vic Vipers at the bottom with zero.
Thái Sơn Nam will play Al Dhafrah today, while Vic Vipers face Erem.
Source : http://vietnamnews.vn