VAR will be used at the V.League
2019-01-10 09:39:18
The Video assistant referee (VAR) will be used in the national football league, the V.League 1, this season.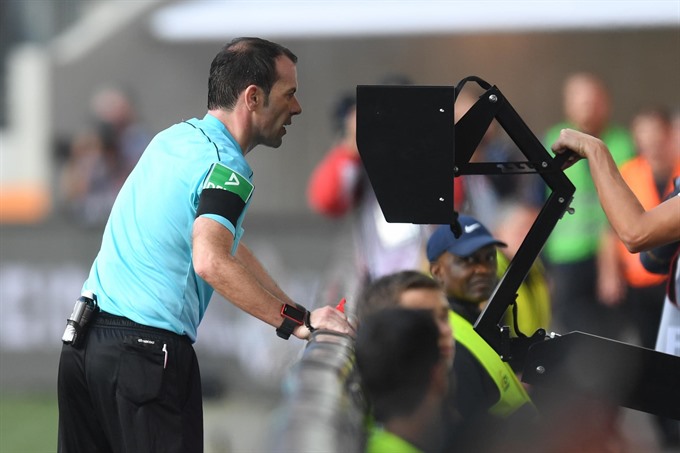 Trần Anh Tú, general director of the Việt Nam Professional Football (VPF) Company which manages these tournaments, confirmed the news at a meeting in Hà Nội yesterday.
"I have not known much about this technology previously but after my business trips abroad, especially to Thailand, I found that it would not be so complicated like I have thought and we can apply it here in Việt Nam. We are working and have invited Thai experts to assist us in technique and run VAR," said Tú.
He however confirmed the technology could only be applied in some 'hot' matches and in stadiums that could meet technical demands such as Mỹ Đình, Thống Nhất, Gò Đậu and Hòa Xuân.
While the VPF will support other teams to upgrade their field's terrain quality so that they apply VAR in the future.
Tú hoped it would help the game attract people's attention and promote the Vietnamese league internationally for broadcast.
A draw for the V.League 1 and other tournaments in 2019 were also organised yesterday.
The national season will be kicked off with a Super Cup match between V.League 2018 winners Hà Nội FC and National Cup champions Becamex Bình Dương on February 16.
The V.League opening match will see defending champions Hà Nội facing Quảng Ninh Coal on February 23 at the Mỹ Đình Stadium. The league will fought between 14 teams ending in October. Clubs are allowed to sign with three foreigners and one Vietnamese player born outside Việt Nam
The winning team will receive VNĐ3 billion (US$130,000). The runners-up will take VNĐ1.5 billion ($75,000) and VNĐ750 million ($37,500), respectively.
The First Division will begin on April 6 until late September. There will have 12 teams, two more than last year.
The National Cup will be held between March 31 and October.
All of V.League and First Division sides will be competitors in the National Cup.
Động Lực Groups promised to support the VPF with training equipments and organising activities with an amount of VNĐ18 billion ($780,000). The VPF is still hunting its main sponsors for the leagues.
Source :