Việt Nam gets first point in U20 futsal Asia Champ
2018-12-07 10:28:04
Việt Nam took their first point in the first qualifying round of the U20 futsal Asia Championship 2019 (SEA region), which kicked off late Wednesday in Thailand.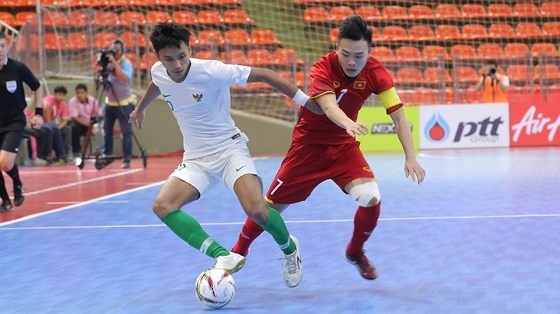 They drew with Indonesia 3-3.
They were led by Indonesia within the first few minutes after a shot by Muhammad Rizki Xavier.
Ten minutes later, Đào Minh Quang evened the score for Việt Nam before Nguyễn Huỳnh Thanh Huy raised the score to 2-1 in the 14th minute.
Indonesia managed to end the first half at 2-2 after an effort by Muhammad Sanjaya.
Five minutes after the second half started, Indonesia struck one more time through Syaifullah, but Việt Nam did not give up, leveling the score again to secure a point.
The result was the same as when they met in the Asia Championship 2017.
In another match, Malaysia beat Myanmar 1-0. Việt Nam will meet Thailand on December 8 and Malaysia on December 9.
Source :