Việt Nam lose 2-3 to Ulsan Hyundai
2017-12-22 09:58:16
Việt Nam's U23 team were defeated 2-3 by South Korean Ulsan Hyundai FC in a friendly match at the Hà Nội's Hàng Đẫy Stadium yesterday.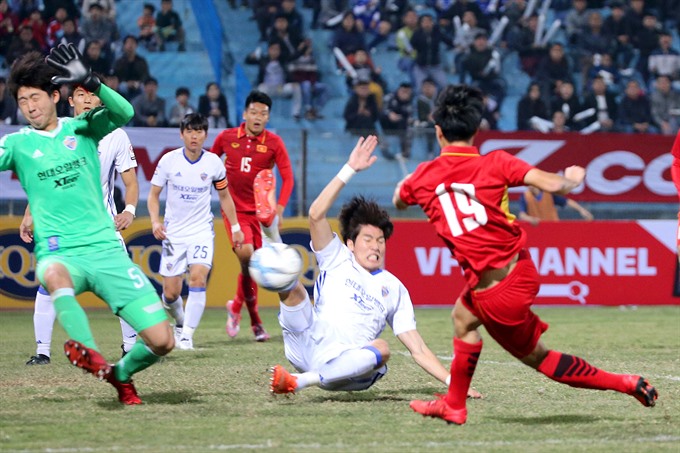 Nguyễn Văn Toàn of Việt Nam (right) scores a goal in a friendly match against South Korean Ulsan Hyundai FC yesterday in Hà Nội.
This was one of preparation matches for the team before the Asian U23 Football Championship next month in China.
Before the game, Coach Kim Do Hoon of the visiting team said a win for his club was difficult as Việt Nam is a strong team but Hyundai proved to be stronger while the host was not as powerful as he thought.
Ulsan Hyundai needed just 10 minutes to test the Vietnamese side before they opened the score with a penalty.
Defender Hoàng Văn Khánh made a mistake in the box and the visiting side was given an 11 metre kick that Kim Seung Jun did not waste.
Three minutes later it was 2-0 for them.
Ulsan Hyundai's Kim In Sung received a long pass and broke through Việt Nam's defence to face goalkeeper Nguyễn Văn Hoàng. His straight shot did not give Hoàng a chance to save his net.
The South Korean side continued dominating the game in the rest of the first half while Việt Nam also had their attacks.
Midfielder Nguyễn Quang Hải brought a corner kick to the box which came to Bùi Tiến Dụng whose header, however, reached Ulsan Hyundai keeper Moon Jung In.
Later on, Nguyễn Phong Hồng Duy had a low shot at the 21st minute but it went a little wide.
Six changes were made in the Vietnamese side after the interval as Coach Park Hang-seo tried to improve his team's attacking abilities.
Among the strikers, Nguyễn Văn Toàn and Hà Đức Chinh showed their best.
Just four minutes after staying on the field, Toàn made it 1-2 with a finish from a narrow angle to a far high corner of goalie Moon at the 50th mark.
His goal was a strong push for the teammates.
Striker Nguyễn Công Phượng missed his threatening chance when he was just meters in front of the goalmouth.
Midfielder Hải was also not successful with his finish and could not pass Moon.
Toàn continued to make Ulsan Hyundai's defence disordered with his attempts as well as accurate passes to teammates in Hyundai's box.
In the 88th minute, he gave a perfect ball to Chinh who made a loop ball over Moon to the net, making it 2-2 for the hosts.
However, Hyundai's substitute Kang Min Soo netted with a left-foot kick to bring his team 3-2 win in the extra time.
Speaking with reporters after the match, Vietnamese Captain Lương Xuân Trường said, "Ulsan Hyundai is a strong team in South Korea. I think they play the same style with their U-23 squad. Playing with them is a good chance for us to know more about one of our rivals at the coming Asian championship."
"We made many mistakes in the first half but in the second we did a better job. After this match we will have to work harder to fix our problems," said Trường, who has played two years in the South Korean K. League.
Meanwhile his teammate Toàn said he was happy as he could score for the U-23 team. It would be a strong force for him and would make him more confident for the continental tournament next month in China.
"We can see the South Korean style through Ulsan Hyundai. We will find out their pros and cons and work on how to overcome them in China," he said.
Việt Nam will play a final friendly match against Palestine on January 4 in Shanghai before they officially taking part in the Asian tournament.
In China, Việt Nam is in Group D with South Korea, Australia and Syria. The competition is from January 9 to January 27.
Source : VNS