Yokohama FC to play SHB Đà Nẵng
2018-01-15 09:28:49
Japan's Yokohama Football Club will play a friendly match against local SHB Đà Nẵng at the city's Hòa Xuân Stadium on January 20th, a representative of SHB Đà Nẵng said yesterday.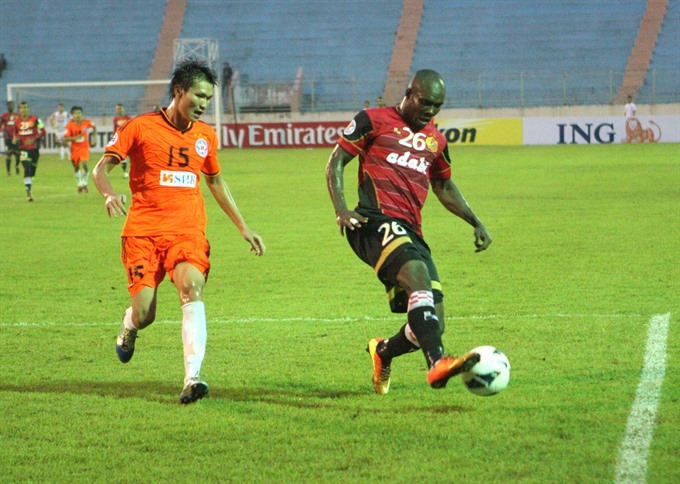 SHB Đà Nẵng player Hải Lâm (left) plays in an international match in Đà Nẵng.
The friendly match, which will start around 3.30pm next Saturday, will form part of activities marking the 45th anniversary of diplomatic ties between Japan and Việt Nam.
As planned, the Japanese football club will begin training at the newly launched 20,000-seat Hòa Xuân Stadium from January 16th, according to SHB Đà Nẵng.
Yokohama FC will train in the coastal city until January 23rd in preparation for the new football season in J-League 2.
SHB Đà Nẵng will play the match under temporary coach Nguyễn Minh Phương, who has been in negotiations with Đà Nẵng for the team's head coach seat since former coach Lê Huỳnh Đức left.
The Đà Nẵng team won the V.League championship in 1992, 2009 and 2012, but ranked 9th in the championship of 2017.
The friendly match will be free for local football fans.
In 2015, Yokohama agreed a one-year loan contract with Vietnamese Nguyễn Tuấn Anh in playing in J-League 2. Two years ago, representatives of Barcelona football school in Asia and Oceania (FCBEscola) and Manchester City Football Services had working sessions with SHB on the possibility of constructing football academies in the central city.
The central city has hosted the annual Việt Nam-Japan Culture Exchange since 2014.
Japanese tourists were the second largest foreign group visiting Đà Nẵng with more than 400,000 tourists each year.
Direct routes were opened from Đà Nẵng to Osaka, Narita and Tokyo in boosting tourism between destinations in central Việt Nam and Japan.
Source : VNS