Opening the AFC/VFF 'A' Certificate Coaching course – Module 1
On September 22, at the Hall of Nha Trang – National College of Pedagogy, the opening ceremony of Opening the AFC/VFF 'A' Certificate Coaching course – Module 1 took place, which will take place for 14 days (from September 22 to October 5), jointly organized by AFC and VFF.

24/09/2023 09:34:29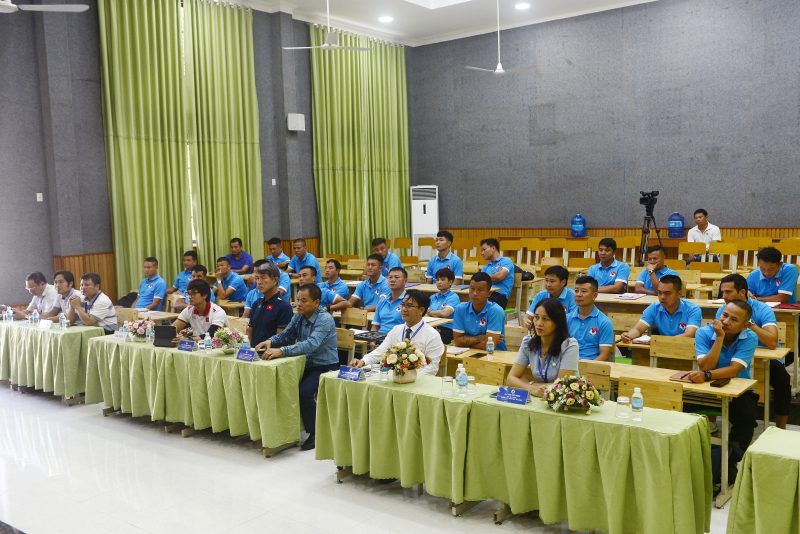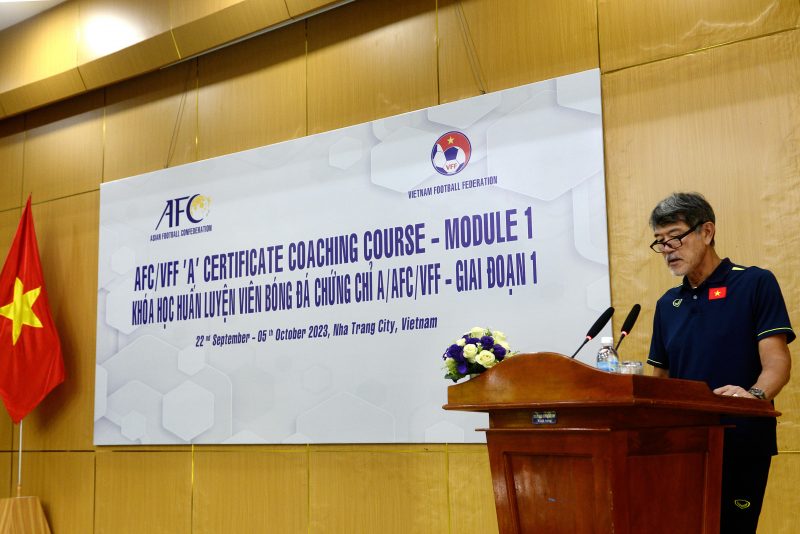 Speaking at the ceremony, Mr. Koshida Takeshi – VFF Technical Director, lecturer of the course said: "Although my time working at VFF as Technical Director has not been long, since June until now I was trusted by VFF to be the main instructor of the C and B Coach Training Courses, most recently a tutor of the Pro Course and today is teaching the 'A' Course again, that makes me extremely happy and excited. It can be said that the policy of organizing many coaching courses is a very correct policy of VFF in updating knowledge and improving professional qualifications for Vietnam's coaching team. I hope that VFF and the coaching education department continue to make efforts to organize more coach training courses, because the learning needs of coaches today are very great so that everyone can contribute to promoting Vietnamese football. I would like to send my sincere thanks to the leaders of Nha Trang – National College of Pedagogy and the functional departments of the School for accepting the invitation to host the course and enthusiastically welcoming the course members in the coastal city of Nha Trang – Famous beautiful city of Vietnam. Personally, I hope that in the next 14 days of phase 1 of the course, all students will be healthy and absorb a lot of the necessary knowledge of the course."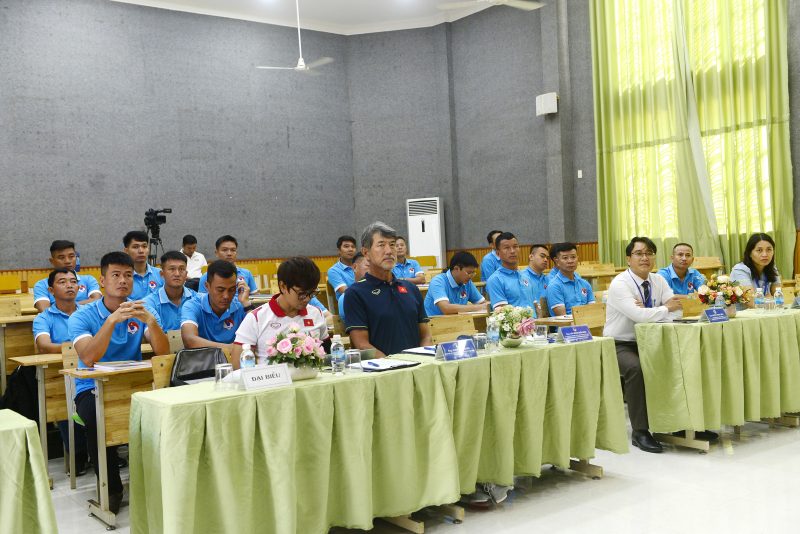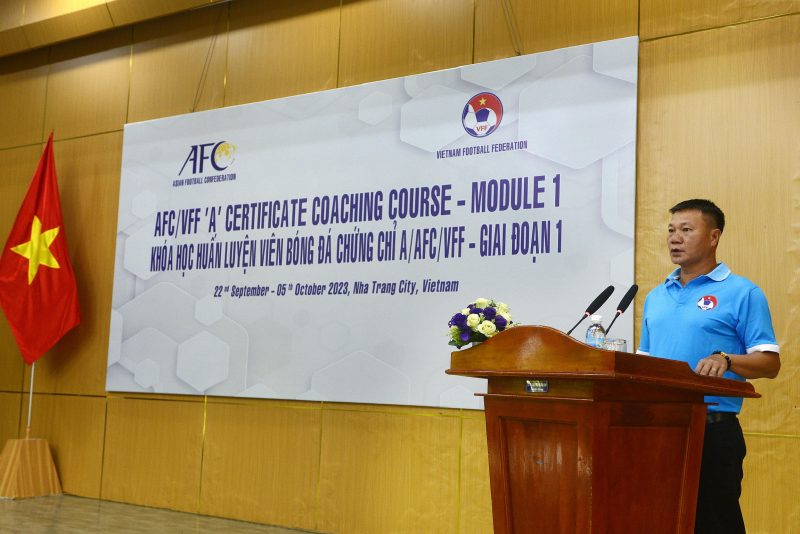 On behalf of the trainees, class monitor Nguyen Thanh Hai (Viettel Sports Center) sent his thanks to VFF, AFC and Nha Trang – National College of Pedagogy for coordinating to organize this Certificate A coaching course for the coaches to have the opportunity to study to improve their football expertise, perform well in coaching and always be updated with the latest and most relevant knowledge from the Course. "The 24 trainees of the course pledge to study seriously, unite, gain a lot of knowledge from the lecturers, strictly comply with the regulations of the course and strive to study with the highest spirit and attitude", said Nguyen Thanh Hai.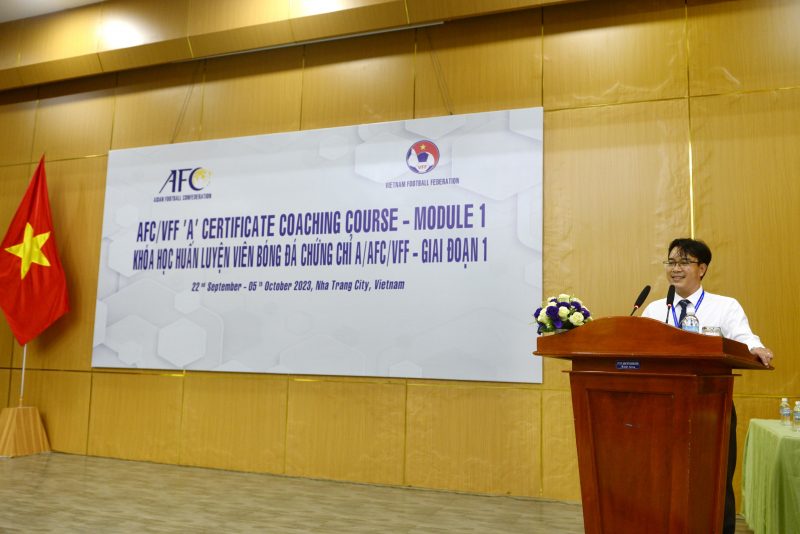 Dr. Nguyen Trung Trieu – Principal of the college, on behalf of the college leadership, welcomed instructor Koshida and all members of the course to attend the Level A Coaching Course in Nha Trang. "The college would like to thank VFF for trusting the college to host the course. This is a great honor for Nha Trang National College of Pedagogy. Recently, the school was also chosen by the Vietnam Football Federation as the location to organize primary and advanced football referee training courses as well as being honored to host 7 matches of the 2023 HD Bank Futsal National Championship. Therefore, the college will make every effort to ensure the course's success both professionally and organizationally. Finally, I wish the trainee who are famous former players and have many contributions to Vietnamese football to be healthy and successful, and to achieve good results at this Course."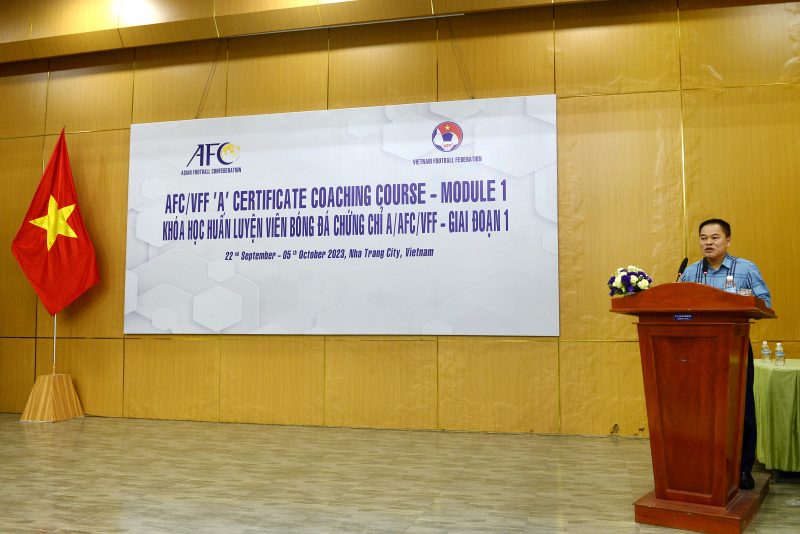 On behalf of VFF, Mr. Luu Quang Dien Bien – Director of Grassroots, Coaching Education and Affiliated MAs of VFF sent his thanks to the Board of Directors and functional departments and faculties of Nha Trang – National College of Pedagogy for their support, created conditions and good coordination in work so that the course is organized as planned. "Thank you, Instructor and Technical Director Koshida, for actively preparing the program, even though he just finished his job as a teaching assistant for the Pro coach training course for only a few days, with almost no time to rest and continue to prepare professional work to implement the teaching of Course A in Nha Trang this time, demonstrating the responsibility and enthusiasm of the lecturers in working for the development of Vietnamese football. Wishing all students to stay healthy and strive to achieve the best results at the Course."