U18 women's team excited on the first day of practice
On the afternoon of June 6, the U18 women's team started training at the Vietnam Youth Football Training Center, preparing for the 2022 AFF U18 Championship, which will take place from July 16 to July 30 in Indonesia.

07/06/2022 11:36:29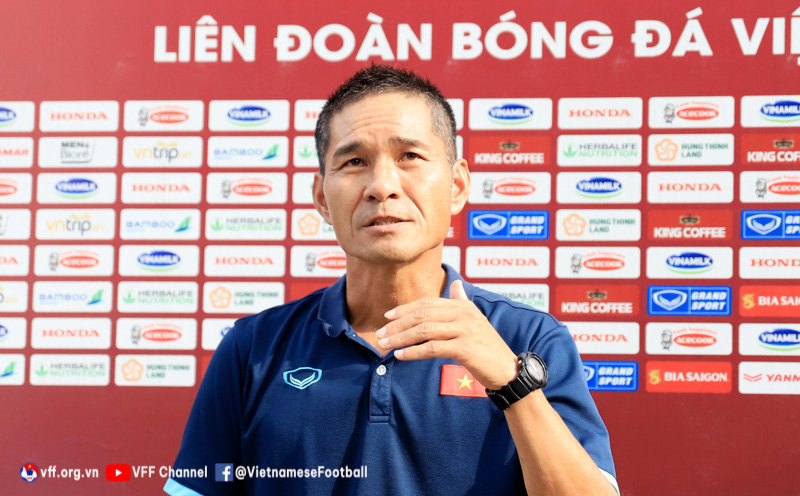 Sharing in an interview before the first training session, head coach Akira Ijiri said: "The whole team has come together to clarify the target as well as the rules in practice and competition. We have prepared a lot of things for this gathering. This group of players has many potentials, many players have been played in the youth national teams. I've worked with the players for a while and they've learned very quickly. I completely believe in my team."
As for the problem of finding the "green army", head coach Akira Ijiri shared: "This is also an issue that the coaching assistants is calculating. In general, we will organise internal training sessions, however, the coaching assistants has also sent invitations to some clubs".
"Vietnamese football has recently achieved certain achievements. But personally, I feel it's still not enough. Other countries are also investing and developing. I hope Vietnamese football can continue to improve, further narrowing the gap with world football. However, undeniably, recent achievements have brought more attention to the players, and also created a lot of motivation and inspiration for young athletes", said the Japanese coach.
According to the plan, the U18 women's football team will practice at the Vietnam Youth Football Training Center before having an overseas training camp scheduled from June 16 to June 28.
*Some images in the training day June 6: