Message by Major General Khiev Sameth, AFF President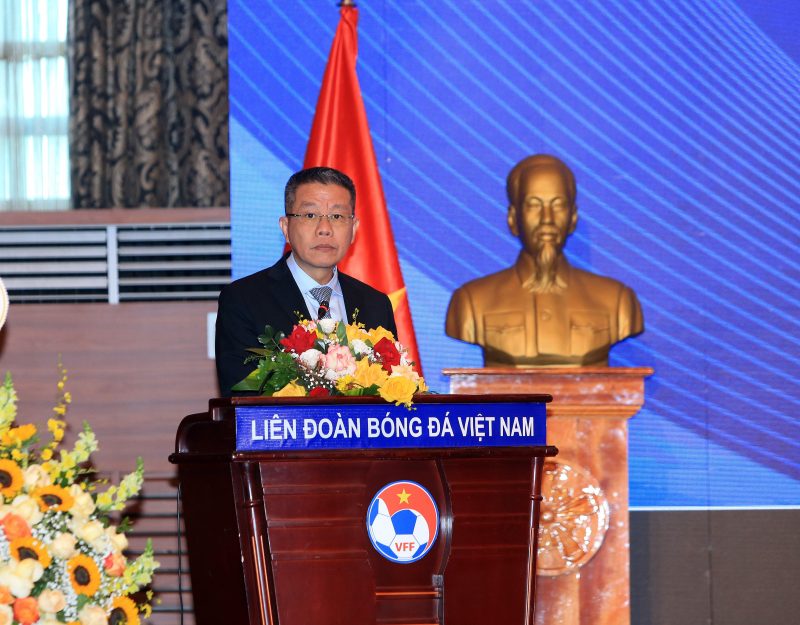 Good morning Acting President Tran Quoc Tuan, Executive Members of Vietnam Football Federation and Delegates to the 2022 Vietnam Football Federation Ordinary Congress.
On behalf of the Council of the Asean Football Federation (AFF), it gives me great pleasure to be here and to wish all of you a successful Congress today.
Similar to the President of FIFA and AFC, I would like to take this occasion to congratulate Acting President, Dr Tran, and all of you on your contributions and achievements including but not limited to the success of your national teams, futsal national team, U23, U19 and U17 youth national teams.
One good example of the achievements of Vietnam football can be seen in the Asian Football Competitions in 2023.
Vietnam is the only country in Southeast Asian football to join Japan and South Korea to qualify for three Asian football final competitions
 in 2023, namely, the 2023 Asian Cup finals, 2023 Asian U-20 finals and 2023 Asian U-17 finals.
It is hard to capture in this brief message all that you have achieved. Suffice to say that the AFF is grateful and proud of what all of you have contributed as well as achieved for football in Vietnam and in our region all these years.
Your achievements are largely due to the selflessness that all of you have demonstrated with your willingness to serve football.
Your achievements are also largely due to the leadership and forward thinking of all of you.
The leadership provided by all of you, particularly the Acting President, Dr Tran Quoc Tuan, has paved the way for football in Vietnam to continue to succeed in every key result area and I will not be surprised to see the Vietnam Men's National Team qualify for the FIFA World Cup in 2026 or 2030.
Besides Vietnam Football, the leadership team of Vietnam Football Federation, especially Dr Tran, also plays a significant role in leading and contributing to the growth and development of football in our region through his capacity as Council Member of AFF and Deputy Chairman of the AFF Competitions Committee as well as Executive Committee Member of AFC and the Chairman of AFC Competitions Committee. Dr Tran has been a consummate football ambassador for Vietnam which has benefitted both Vietnam and the region.
We are humbled by your commitment of putting football above to everything else.
 We admire your resolve to do the hard things and hard work.
We recognise that all of you always do whatever it takes to fulfill your duty and to honour your commitment to our beautiful game.
All of you have given up so much for football and that is something we do not take lightly. I think what makes all of you great is you do not expect anything in return.
As President of the Asean Football Federation, I will continue to be here to support all of you in every step of your football journey in Vietnam.
 It leaves me now to again wish you a successful Congress and continued success in your football journey.
Thank you.