Defeat Danang, Sanatech Khanh Hoa becomes the champion of HD Bank Vietnam Futsal League 2019
Sanatech Khanh Hoa became the champion of HD Bank Vietnam Futsal League 2019 after defeated Danang at the final game on 30th Nov at the QK4 arena (Vinh, Nghe An).
Before the starting of the match, both teams showed their highly competitive spirit, especially Danang who was the new team of this session. The teams started the game with a high tempo and created many chances. 7 minutes, from a passed ball of Vu Quoc Hung, the player number 10 Nguyen Van Hieu had the first goal for Danang. 5 minutes later, Minh Tuan missed a chance to narrowed the deficit for Sanatech Khanh Hoa when he received a ball from Thanh Sang. The defend of Danang played very well and intercepted all the chances of Sanatech Khanh Hoa.
At the 13 minutes of the match, Sanatech Khanh Hoa drew level by a goal of Mai Thanh Dat. Last minutes of the first half, Khong Dinh Hung made a mistake when passing the ball for goalkeeper Hoang Anh and created the chance for Ha Duc Ngoc to score a goal for Danang.
In the second half, many surprise situations happened. 27 minutes, Danang's captain Vu Quoc Hung suddenly made an own goal. However, immediately after, Dang Phuoc Hanh made the third goal for Danang. And a few minutes later, Minh Tuan passed a ball for Van Hanh to score a goal by the left leg.
The match was very dramatic and the final result had to depend on the penalty. And luckily came to Khanh Hoa, they became the champion of this tournament.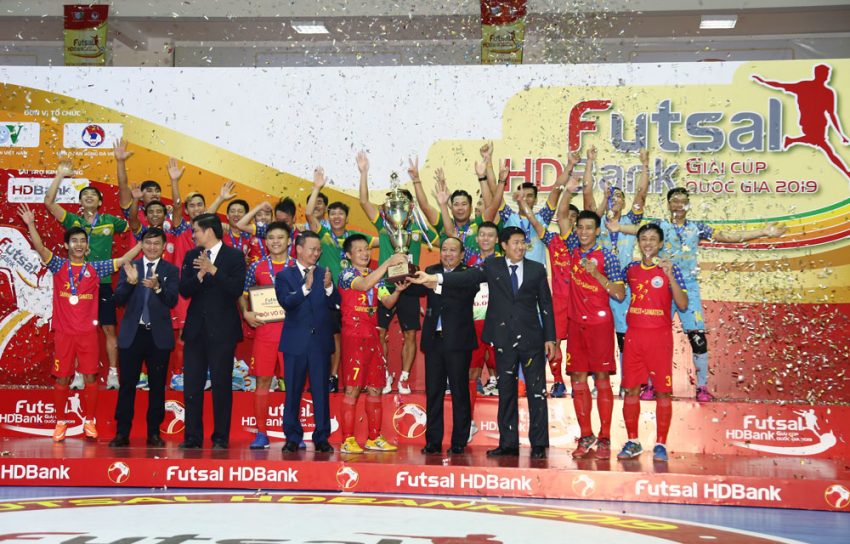 On the other match, Thai Son Nam has a victory 2-1 over Thai Son Bac to rank 7th. Anh Tai and Ngoc Linh were the players who had the first two goals for Thai Son Nam before Lam Toi score a goal for Thai Son Bac at the 30 seconds before the game end.
Cao Bang defeated Tan Hiep Hung 3-1 to rank 5th. Kardiachain Sai Gon wins SHK Nghe An 3-2 in the penalty after a draw 1-1 in the main time.