FIFA Ranking November 2019: Vietnam ranked 94th
According to the latest FIFA Ranking in November 2019, Vietnam under the guidance of head coach Park Hang-seo has ranked 94th instead of 97th as before.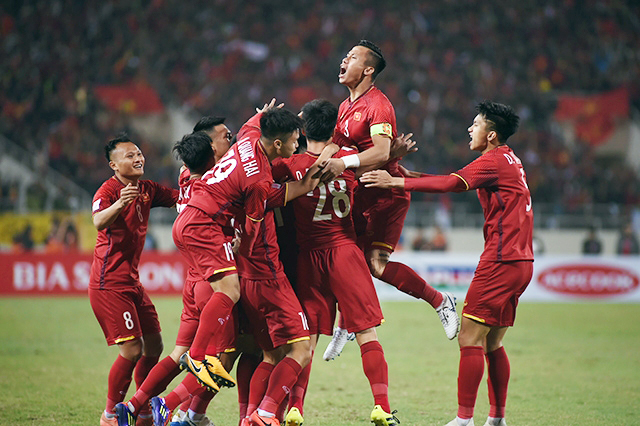 Particularly, Vietnam has added 13 points and increased 3 levels from 97th up to 94th. The reason for this promotion is Vietnam had the impression throughout at World Cup 2022 Qualifier in November. Our team has excellent victory 1-0 over UAE and a draw 0-0 with Thailand at My Dinh stadium.
On the other hand, Thailand has been deducted 15 points, down four ranks from 109 to 113. This is understandable because Thailand failed to Malaysia and draw with Vietnam at World Cup 2022 Qualifier in November. Another ASEAN's team Malaysia increased 4 levels from 158 up to 154 after 2 victories with Thailand and Indonesia.
Therefore, Vietnam is still "the king" of ASEAN and ranked 14 Asia, following by Thailand and the Philippines.
At the world ranking, Top10 has only one change, when Croatia has risen one step, from 7 to 6, pushing Portugal to 7.
Belgium continues to ranked 1st with a total of 1756 points. Top 5 are France (1733), Brazil (1712), England (1661), and Uruguay (1645).
Top 10 FIFA Nov 2019
1. Belgium – 1765
2. France – 1.733
3. Brazil – 1.712
4. England – 1.661
5. Uruguay – 1.645
6. Croatia – 1.642
7. Portugal – 1.639
8. Spain – 1.636
9. Argentina – 1.623
10. Colombia – 1.622
Top 15 Asia
1. Japan – 1500
2. Iran – 1489
3. Korea – 1459
4. Australia – 1457
5. Qatar – 1398
6. Saudi Arabia – 1351
7. Iraq – 1340
8. UAE – 1338
9. China – 1325
10. Syria – 1314
11. Oman – 1304
12. Uzebekistan – 1289
13. Lebanon – 1269
14. Vietnam – 1258
15. Kyrgyzstan – 1240