Round 2 U19 Women's National Championship 2019: Hanoi continues to rank first
(27th Nov). At Ha Nam stadium, 2 matches of round 2 U19 Women's National Championship 2019 have held. Hanoi's team continues to be a winner with the victory 4-2 against Ho Chi Minh City.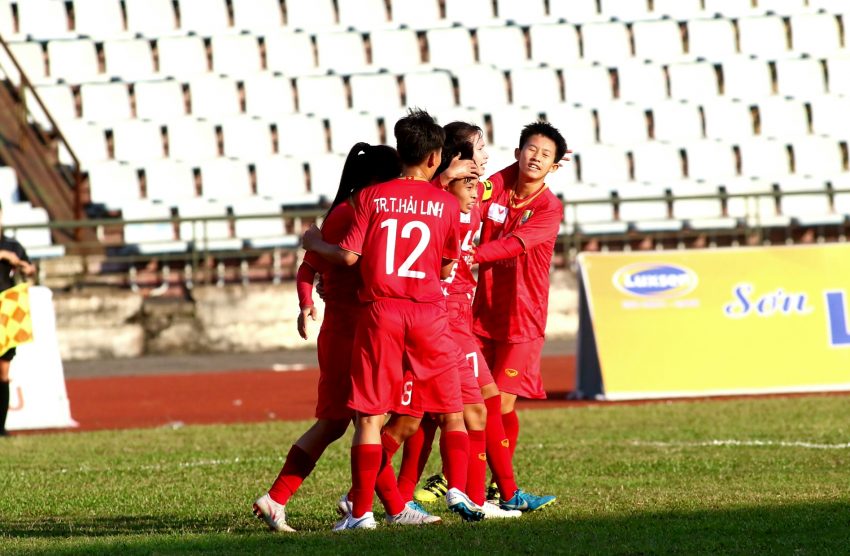 With the teams includes many players belonging to the national team,2 teams of Hanoi and Ho Chi Minh City are all expected to become a champion of this tournament. The balance was kept during the first half while from the beginning of the second half both teams raised the tempo of their game with many consecutive goals. Young striker Ngan Thi Van Su (16) is the player who had the first goal at 61 minutes and after that, she had more 2 goals to bring the victory 4-2 for Hanoi.
Meanwhile at the later match, Than KSVN had a draw 2-2 with Phong Phu Ha Nam. Even though, the second draw also helped improve the position of Than KSVN from 4th up to 3rd instead of Ho Chi Minh City.
Result 
15:00 Hanoi and Ho Chi Minh City: 4-2

Ha Noi: Ngan Thi Van Su (16) 61',70'&90'+2; Tran Thi Hai Linh (12) 80'

Ho Chi Minh: Chau Ngoc Bich (31) 5', Nguyen Thi Ngoc Duyen (76) 81'
Match Commissioner: Le Van Quoc
Referee Assessor: Nguyen Truong Xuan
Referee: Le Thanh Tung
Assistant referee: Duong Thi Phuong Thao, Vu Thi Thanh Tu, Tran Thi Thanh
17:30 Than KSVN and Phong Phu Ha Nam: 2-2

 Than KSVN: Tran Thi Thu Xuan (14) 33'&43'

 Phong Phu Ha Nam: Tran Thi Thu Huong (46) 52', Ha Thi Ngoc Uyen (12) 62'

 Than KSVN: Nguyen Thi Thuy (21) 75'

 Phong Phu Ha Nam: Ta Thi Thuy (22) 79'
Match Commissioner: Nguyen Cong Thanh
Referee Assessor: Kieu Thi Thuy
Referee: Vu Thi Hau
Assistant referee: Pham Van Thinh, Vo Thi Ngoc Hanh, Le Ngoc Loi